Essays On Digital Lipstick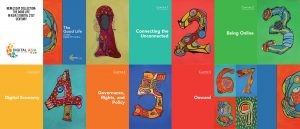 About this Essay Collection
The essay collection is available for download at no cost at: 
The Internet with its three billion users – and digital technology more broadly – have fundamentally changed the ways in which we as individuals communicate and collaborate with each other, how entrepreneurs and businesses operate and innovate, how young people express themselves and engage with the world's knowledge, and how governments interact with their citizens. As we begin the 21st century, the digital ecosystem continues to change and evolve globally, regionally, and locally, as more and more people around the world become connected, next generation technologies and business models emerge, and the lines between the online and offline increasingly blur.
In many respects, Asia is at the forefront of the next wave of digital transformations, whether we look at the massive growth in connectivity, innovative use of digital technologies to build smart cities and infrastructures, or Asia's cultural diversity as we reimagine and rebuild the future of education, commerce, or healthcare. With the imaginative power that comes from the wealth of diverse people and cultures, Asia is expected to significantly shape the future direction of digital technology and the evolution of society over the decades to come, not only regionally but also globally in today's interconnected world.
Against this backdrop and in order to inform decision-makers in the private and public sector about these transformations, a diverse group of academic, civil society, and private sector partners from Asia and beyond have come together to launch the Digital Asia Hub as an independent, non-profit Internet and Society research think tank based in Hong Kong (www.digitalasiahub.org). Initially incubated by the Berkman Center for Internet & Society at Harvard University with its regional partners, the Digital Asia Hub will serve as a nonpartisan, open, and collaborative platform for research, knowledge sharing, and capacity building related to Internet and society issues with a focus on digital Asia. The Hub, led by an Executive Director, Management Board, and Steering Committee, also aims to strengthen effective multistakeholder discourse, with both local and regional activities, and will contribute to – and itself serve as a node of – a larger network of academic organizations: the Global Network of Internet & Society Centers (www.networkofcenters.net).
The essays collected in this book are intended as an initial contribution by an emerging and open interdisciplinary research network consisting of students, researchers, entrepreneurs, and many other collaborators who share a deep interest in digital technologies and their role in improving life in Asia's digital 21st century. Based on an open call for participation and to celebrate the launch of the Digital Asia Hub, this book brings together a series of reflection pieces written for a broader audience in form of short essays that address some of the key research topics the Hub may explore in the future, including digital rights, governance and infrastructure, innovation, open manufacturing, digital trade, trending technologies and technology spaces, mobile technology and ts impact on access, education, entrepreneurship, and the use of ICT for development and civic engagement.
The selected essays – written by twenty-six researchers (including student authors) and other stakeholders from across Asia – offer kaleidoscopic reflections on the guiding topic "The Digital Good Life in Asia's 21st Century," and are grouped into five broad chapters: "Connecting the Unconnected," "Being Online," "Digital Economy," "Governance, Rights, and Policy," and future perspectives ("Onward"). The contributions in this book reflect the diversity of insights, ideas, and perspectives that we hope will form the core and spirit of the Digital Asia Hub. Some of the reflection pieces are closely connected to the research topics of the Digital Asia Hub, others reflect more generally on personal observations and opinions, or highlight and discuss insights and learning from specific case studies or concrete projects.
By making these reflection pieces available as we celebrate the launch of the Digital Asia Hub research network, we hope to stimulate independent and interdisciplinary research exploring both the opportunities and challenges related to digital technology, innovation, and society in Asia. Additionally, we hope to work towards a robust community that shares a deep interest in and commitment to Internet and society research as the Digital Asia Hub seeks to engage in and support cross-cultural, sectoral, and interdisciplinary dialogues and collaborations.
The Digital Asia Hub is pleased to announce the three winners of the student writing competition, held as part of our call for essays for "The Good Life in Asia's Digital 21st Century." We received many excellent submission from students, and from those contributions selected the top three.
With every new opportunity for companies to evolve, there come significant challenges. How businesses address them will determine their growth and progress.
Digital transformation is a game-changer. Like every market disruption, digital requires companies to shift perspectives and invest in modern skills and talent. Businesses and their change drivers still face monumental challenges to successfully achieve their own digital transformation and it's difficult for many executives and colleagues to prioritise digital initiatives ahead of personal skills and responsibilities. Many companies are just not equipped to adapt to disruption.
A lack of digital literacy and expertise will greatly restrain the process of transformation, which requires a dedicated employee engagement programme and signals the important role that human resources departments must play. Although employee engagement is critical, it sits atop a long list of equally difficult challenges.
Digital transformation is wrongly seen as a short-term cost centre instead of a long-term investment in competitiveness
Rather than treating digital transformation as an investment in value creation, many companies look upon such initiatives as costs. It's easy to see any expenditure on the unknown as a risk, or even unnecessary. Instead of embracing digital transformation at its face value, it is common for all stakeholders to restrain the need for big investments – especially if a company is doing well today. However, without investments or endeavours into new territories, digital transformation's return on investment becomes muted.
Culture, budgets and resources are either catalysts or inhibitors
Corporate cultures continue to remain a top obstruction to change, impacting the support that digital transformation initiatives require on all fronts. Without an empowered culture focused on agility and growth, digital transformation and innovation are greatly hindered. In addition, it is difficult and perhaps pointless to solve cultural challenges in one swift action while dealing with all the other competing priorities.
Change management is essential to successful digital transformation Not enough of the conversations about digital transformation focus on human dynamics and helping people change and support new directions. In cases where digital transformation moves ahead, it requires classic change-management programmes to move forward while improving and modernising company culture, work and employee engagement.
All companies are becoming technology companies
Businesses are facing a wave of disruptive technologies, fated for implementation across every facet of their ecosystems. Disruptive technologies (such as AR, VR, AI, machine learning, big data, IoT and programmatic trading) all require technical ownership and special skillsets in order to be designed and implemented effectively. Increasingly, therefore, all types of businesses are steadily becoming technology companies. This fundamental transformation of a company's technology stack will replace legacy systems and trading functionalities with a new, scalable platform for trading, delivering and paying, with improved customer data organisation as well as closer integration with other systems, including inventory management.
Corporate innovation
Corporate innovation is becoming an executive-level mandate, operating in parallel with – but separately from – digital transformation initiatives. Just across the span of the last few years, it's clear that businesses have been making innovation a priority. While executives are learning as they go, there are already big steps being taken towards the maturity of innovation models. Innovation programmes have to start somewhere, after all.
These efforts help to introduce stakeholders and decision makers to alternative approaches to innovation and transformation. Exposure to entrepreneurs, tech giants and investors often provides executives with new perspectives that reveal new possibilities, which differ from their day-to-day corporate thinking.
By mere observation and by tracking the state of digital transformation, some companies show some signs of progress. They're focusing on understanding the evolution of digital customers and employees. They're investing in technologies, processes and experiences that better cater to customer and employee expectations and behaviours. Teams are forming in organisations to champion and collaborate on key initiatives. Businesses are demonstrating that innovation is vital to competitiveness.
At the same time, digital transformation is progressing slowly and not yet penetrating deep enough within organisations to change corporate DNA from being legacy based to becoming more agile. Workforces are not yet familiar with how the new digital ecosystem is changing customers' and employees' business transactions and behaviours. Investments remain very limited, with the short-term in focus. Corporate culture is still mainly risk-averse and not yet empowering new thinking or pursuits.
Every industry faces disruption. Digital Darwinism favours the adaptable. This fact makes digital transformation a critical opportunity and a viable threat at the same time. Change requires bold vision and innovation – not only to adapt, but also to establish new value propositions and competitive advantages in a dynamic economy.